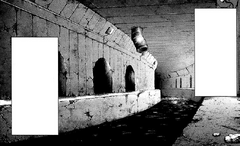 The 24th ward (24区, Ni-jū yon-ku) encompasses the deepest parts of the large labyrinth that the ghouls dug in Tokyo's underground in the past. It has also been stated by several characters, the most notable being Touka Kirishima, that it is by far the most horrible out of all the wards in Tokyo due to the difference in human to ghoul ratios.
Former Residents
Edit
References
Edit
Ad blocker interference detected!
Wikia is a free-to-use site that makes money from advertising. We have a modified experience for viewers using ad blockers

Wikia is not accessible if you've made further modifications. Remove the custom ad blocker rule(s) and the page will load as expected.