DVD/BD vol.5

DVD/BD Info

Episodes:
Episode 13 – Episode 14
Length:
50 Minutes
Release date:
March 27, 2015
EAN:
4562474163422 (DVD)
4562474163361 (BD)

DVD/BD Chronology

← vol.4
vol.6 →
The fifth DVD & Blu-ray disc in the series and first for Tokyo Ghoul √A.
Episodes
Edit
List of Episodes
Edit
Jacket drawn by Kazuhiro Miwa
Special Picture label
Limited Edition Bonus
Edit
Original clear case and digipack
Original CD: Mini Soundtrack and Mini Drama "Kaneki's Surprise Birthday"
Lottery ticket for cast event priority selling ticket
16 pages original booklet
Original Super Deformed Character Goods: White Kaneki card sticker
Application ticket for all volume purchase bonus
Audio Bonus
Edit
Audio Commentary for Episode 13 by Natsuki Hanae (Kaneki) and Sora Amamiya (Touka)
Video Bonus
Edit
Creditless Opening
Digest video of event held on November 30, 2014
Original gallery
Included Production Images
Edit
Trailers
Edit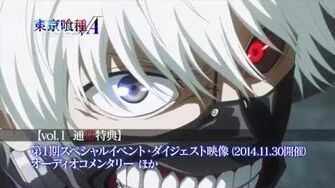 Ad blocker interference detected!
Wikia is a free-to-use site that makes money from advertising. We have a modified experience for viewers using ad blockers

Wikia is not accessible if you've made further modifications. Remove the custom ad blocker rule(s) and the page will load as expected.