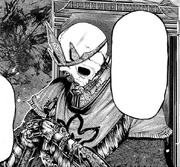 The One-Eyed King (隻眼の王, Sekigan no Ō) is a mysterious figure within the Tokyo Ghoul universe, often associated with revolutionary ideology. Rumored to be the leader of the ghoul organization, Aogiri Tree, the King's identity is the subject of much speculation and a primary target of V.
In reality, however, the King is revealed to be a title passed from one individual to another. Kishou Arima held the title as part of a larger plan to bring about a revolution. After his death, the title is claimed by Ken Kaneki.
Identity and Suspects
Edit
Throughout the franchise, multiple characters speculate on the identity of the King and offer possible suspects.
Representations
Edit
Individuals
Edit
Sasaki speculates Nameless, the protagonist of the novel King Bileygr, is intended to be a fictional version of the King.[6]
In the English edition of Volume 4, the One-Eyed King is mistakenly mentioned twice, once by Kureo Mado in Touka Kirishima's flashback in Chapter 31 and once in Chapter 34 in Kaneki's thoughts. Correctly, it should state in both cases "(that other) One-Eye" which refers to Eto.
The re in the title of Tokyo Ghoul:re comes from the Maltese word for "King."[2]
V agents call Kaneki the "Nameless King," possibly in reference to the main protagonist of King Bileygr.
In contrast to Kaneki declaring himself the One-Eyed King, Furuta names himself the "Washuu King."
In contrast to Kaneki claiming the mantle of the One-Eyed King from Kishou Arima, effectively taking on half of his legacy, Juuzou Suzuya took on the responsibility of the CCG's Reaper and took command of S3 Squad, being designated by Souta as "The New Arima".
References
Edit
Ad blocker interference detected!
Wikia is a free-to-use site that makes money from advertising. We have a modified experience for viewers using ad blockers

Wikia is not accessible if you've made further modifications. Remove the custom ad blocker rule(s) and the page will load as expected.