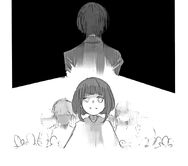 The Sunlit Garden (白日庭, Hakubitei), also sometimes referred to as the Garden (庭, Niwa), is a facility owned by the Commission of Counter Ghoul. It is responsible for providing "talented" children with a special education, though it is not publicly disclosed what this means. The organisations V and the Washuu Clan are also involved in the Garden's management.
Appearance
Edit
The facility has not been shown, leaving many mysteries concerning its appearance or location. Flashbacks of the facility feature a field of flowers, though it is unknown whether this is literal or symbolic.
The children of the facility wear a simple uniform, consisting of a white high-collared shirt and black slacks. Other children, such as Rize and Furuta, are shown wearing white hospital robes.
True Purpose
Edit
The Sunlit Garden is a facility that breeds and raises half-human children, training them to become talented Ghoul Investigators upon their graduation.[1] It also houses "bred" Ghouls such as Rize Kamishiro, used to preserve the pure-blooded Washuu bloodline.[2]
Former Members
Edit
According to Koori Ui's complaints, individuals from the Garden are known for lacking a formal education.[3]
Kaiko once questioned the Garden's education upon Furuta's improper speech manner, but eventually changed his minds after the Washuu Clan Ambush Incident and during the Clown Siege.[7]
In the Tokyo Ghoul :re opening, when half-humans are brought onto screen in canon, a golden environment is shown, possibly referring to the Garden.
References
Edit